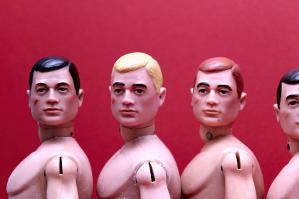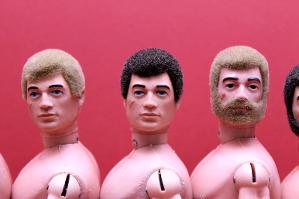 Heads restoration consists of stripping the original flock chemically to avoid causing any damage to the original head.The eyes are then masked out using a mouldable laboratory putty.The face is then thoroughly cleaned.

A new base coat matching the original colour is then painted over the existing one to to give a solid base.

We then touch up the eyebrows, face, Lips and scars to a minimum to keep original features.

The Heads are then re flocked using a high grade epoxy resin to ensure a long and durable flock life with a nice professional and full finish,using a 2mm flock which has been professionally color matched to the original colours from pristine boxed figures from my own collection.
We buy the flock in larger batches which is mixed professionally so that every batch is identical to the last batch keeping them all the same shades.

All heads are re flocked using the 2mm quality flock keeping the original flock and style.

The heads are then left for 48 to 36 hours allowing the epoxy resin to fully cure and adhere to the head.
What makes us different from other flocking companies
Quality workmanship
Finest Materials
Always contactable
Detached heads refitted for free
Fast and efficient friendly service
Fair postage prices
Face cleaned Eyebrows,lips and scar repainted Re flocked & Eagle eye heads re attached for free
Reflock Price list
Head £3.50
Heads £7.00
Heads £10.00
Heads £13.00
Heads £15.00
Return postage is £4.95 Signed for up to 20 Heads